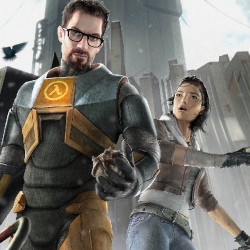 Samsung's mobile division is now working on a VR headset. The new product may be ready by the end of the year. Samsung is trying to beat the Oculus Rift VR headset (which Facebook now owns) and Sony's Project Morpheus to market, and it hopes to offer its headset at a lower price.

The Irvine, Calif.-based Oculus Rift touched off a wave of new interest in VR headsets for gaming and other applications. VR headsets are nothing new, but Oculus Rift's product actually works, well enough to give me vertigo when I tried it. It's also really fun.

The two screens in front of your eyes show slightly different video images, simulating the 3D effect, and a couple of sensors detect your head movements so that you feel like you're moving around in space. In short, the roller-coaster ride I viewed felt a lot like the real thing.

Samsung reportedly has given prototypes of its new headset to a number of game developers. The prototypes run on existing Samsung Galaxy devices, but as-yet unannounced Samsung devices will power the fully baked product that will go to market.

The Oculus product is said to be built with a bunch of Samsung parts and has faced supply chain issues in the past. So it's no huge surprise that Samsung executives would hand down the directive to its mobile division to take those parts and make a Samsung headset.