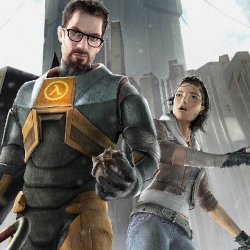 HTC is to release a virtual reality headset as part of a tie-up with Valve, a leading PC video games publisher. The HTC Vive will be paired with wireless controllers and tracking technology to let wearers explore computer-generated environments by walking round their rooms.

A test version of the kit will go on sale to developers shortly, followed by a public edition later this year. It will compete with Facebook's Oculus Rift and Sony's Morpheus VR headsets. The machines let wearers view computer-generated 3D environments to give them a sense of being there.

The announcement marks a change of strategy for HTC, which has focused on smartphones. At a press conference in Barcelona on the eve of the Mobile World Congress trade show, the Taiwanese firm also unveiled a new flagship handset – the HTC One M9 – and a GPS-enabled fitness tracker. Only limited details of the Vive have been released ahead of a planned presentation by Valve at the Game Developers Conference in San Francisco on Wednesday.

However, HTC has said that the headset features can display video at 90 frames per second (fps) – an important consideration as many developers believe a rate lower than 60fps can cause nausea.

It includes two 1,200 by 1,080 pixel screens to provide high definition – but not 4K – quality graphics, and allows existing sets of headphones to be plugged into its side. HTC said that more than 70 sensors were built in to the machine, including a gyroscope, an accelerometer and a laser position sensor.