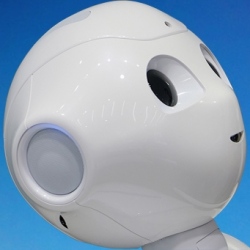 IDC forecasts global spending on robotics to grow at a compound annual growth rate of 17% from more than US$71 billion in 2015 to US$135.4 billion in 2019. The new spending guide measures purchases of robotic systems, software, robotics-related services, on a regional level across thirteen key industries and fifty-two use cases.

"Robotics is one of the core technologies that is enabling significant change in manufacturing through factory of the future initiatives. While traditionally used in the automotive industry, there is an increasing adoption of robotics in sectors like electronics, retail, healthcare, logistics, agriculture, services, education, and government," said Jing Bing Zhang, research director, Robotics at IDC Manufacturing Insights. "Such broad-based growth in robotic adoption is being driven by increasing labor costs, shortage of skilled labor, and an increasing emphasis on repeatable quality in conjunction with a reduction in prices of robotic systems and strategic national initiatives."

Not surprisingly, worldwide robotics spending is dominated by the discrete and process manufacturing industries, which represented 33.2% and 30.2% of total spending in 2015, respectively. Resource, healthcare, and the transportation industries are the next three largest commercial industries in terms of overall robotics spending. Process manufacturing and healthcare are two of the fastest growing industries, with worldwide spending in each forecast to nearly double by 2019.

From a technology perspective, worldwide spending on robotics systems, which includes consumer, industrial, and service robots, is forecast to grow to nearly US$32 billion in 2019. However, services-related spending, which encompasses applications management, education and training, hardware deployment, systems integration, and consulting, will grow to more than US$32 billion in 2019, overtaking robotics systems and becoming both the largest and fastest-growing category of spending by the end of the forecast. Total spending on system hardware (servers and storage) and software (command & control, network infrastructure, and robotics-specific applications) will grow nearly as fast as services spending.

The Asia Pacific region including Japan accounts for more than 65% of total robotics spending throughout the forecast. Europe, the Middle East, and Africa (EMEA) is the second largest region with expenditures of US$14.6 billion in 2015, followed by the Americas with 2015 spending totals of US$9.7 billion. Robotics spending will nearly double in Asia Pacific over the 2015-2019 forecast period, making it the fastest growing region followed by the Americas.

"Robotics as a technology has really reached its tipping point," said John Santagate, research manager, Supply Chain at IDC Manufacturing Insights. "Robotic capabilities continue to expand while increasing investment in robot development is driving competition and helping to bring down the costs associated with robots."