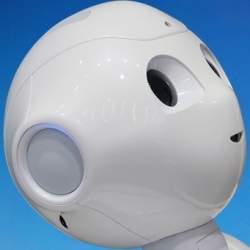 Why bother with a human docent when a robot could give you a guided tour? Last week, the Smithsonian Institution in Washington, DC, revealed its new employee — an interactive robot named Pepper. The 4-foot-tall humanoid robot was created by Softbank, which donated 30 robots to the museum last year.

"By interacting with museum visitors and providing insight on different exhibits, Pepper will help guide their educational experience through the Smithsonian that they otherwise might have missed out on," Steve Carlin, chief strategy officer of Softbank Robotics, said in a statement.

Pepper is programmed to answer commonly asked questions and tell stories. The robot can react and make gestures, and is equipped with an interactive touch screen.

To entertain museum visitors, Pepper often dances and poses for selfies, which will undoubtably attract a crowd.

The new docent robots roam the halls of five of the Smithsonian's branches, including the National Museum of African Art, the National Museum of African American History and Culture, the Hirshhorn Museum, the Smithsonian Castle and the Smithsonian Environmental Research Center.

In each of the different museum branches, the Pepper robots perform different docent duties. For example, at the National Museum of African Art, Pepper can translate phrases in the Kiswahili (Swahili) language.

At the National Museum of African American History and Culture, Pepper robots guide visitors to the Rosa Parks VR experience.

Pepper robots are also programmed to teach visiting students coding and software engineering in the Smithsonian's teen educational space ARTLAB+.

Said Rachel Goslins, director of the Arts and Industry Building, "When you meet Pepper, you can't help but smile."