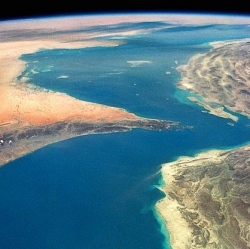 We don't have an official launch date yet for SpaceX's historic rocket re-launch just yet, but it could come as soon as March 29. During this flight, which will deliver the SES-10 satellite to geostationary orbit, the company plans to reuse the Falcon 9 first stage booster it successfully landed on a drone ship last April.

That landing came after the Falcon 9 lifted a cargo ship toward the International Space Station. Here's what we know so far about the upcoming launch: it can occur no earlier than March 29, because the launch of an Atlas V rocket has slipped to March 27, and it requires about 48 hours for the Air Force to reconfigure its downrange tracking system for a launch from a different pad. Further changes to the Atlas launch schedule could push the SpaceX launch into early April.

The rocket appears to be ready to go. According to NASASpaceflight.com, a static fire test has been scheduled for no earlier than March 26. One issue had been turning around the company's recently commissioned Launch Pad 39A complex, which was used recently with the March 16 launch of an EchoStar satellite. But that site has reportedly now been cleared for reuse.

The payload, an SES-10 communications satellite, is already fueled and ready to go. After launch, the booster will deliver it toward an orbital trajectory, and the second stage will push the satellite into a geostationary trajectory. Meanwhile, the first stage will again attempt to make a return to Earth. Ars has confirmed that the reused Falcon 9 booster will attempt a second drone ship landing.

SpaceX has returned more than half a dozen rockets by land and by sea, but it has yet to demonstrate the equally critical capability to refly a rocket. The vertical takeoff and landing of rockets has long been a holy grail of the aerospace industry, as it offers the promise of reusability and low-cost rocketry. Blue Origin accomplished this feat with its smaller, suborbital New Shepard rocket a year ago. Now, if SpaceX can do the same thing with the more muscular, orbital Falcon 9 rocket, it will make a strong statement that the future lies in recycling rockets, rather than expending them after a single launch.