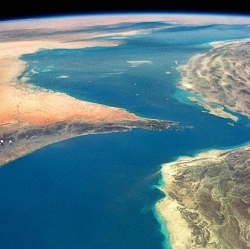 In 2014, after perceiving that the US Air Force was unfairly favoring a competitor in the commercial launch industry, SpaceX sued the federal government. The premise of the lawsuit was that the Air Force had ordered 36 rocket cores from United Launch Alliance without considering SpaceX as a possible bidder for the launches.

The anti-competition lawsuit never moved forward, because the government and SpaceX negotiated a deal behind closed doors. Eventually, the Air Force put 14 of those missions up for bid and certified SpaceX's Falcon 9 rocket as a potential provider of launch services for the military and national security agencies. On Sunday, SpaceX will make its first flight with a national security satellite as its primary payload since receiving certification in 2015.

Not much is known about the National Reconnaissance Office's NROL-76 satellite, which will launch from Launch Complex 39A at NASA's Kennedy Space Center in Florida. The launch window on Sunday opens at 7am ET (12pm UK) and lasts two hours. Weather conditions are favorable. A backup launch window on Monday morning opens at 7am as well. SpaceX will then attempt a first-stage landing along the coast, at its Landing Zone 1 site.

After waiting so long to compete for the lucrative national security launch market, the company's press release for the Sunday's launch contains what can can probably be safely perceived as a jab at United Launch Alliance, which has had difficulty competing with SpaceX on price. The release notes that the Falcon 9 is "a two-stage rocket designed from the ground up by SpaceX for the reliable and cost-efficient transport of satellites." (Emphasis ours).

SpaceX will offer a webcast for Sunday's launch, but if this is like previous spy satellite missions, coverage of the ascent will end shortly after liftoff. It is expected that SpaceX will offer coverage of the first stage landing attempt, about nine minutes after the launch.