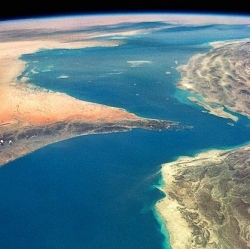 SpaceX had difficult years in 2015 and 2016, as two accidents with its Falcon 9 rocket hit the company's bottom line and raised some concerns about its reliability in the global launch market. But now the company seems to have bounced back nicely, and after a little more than five months the company is on pace to have an absolutely stellar 2017, making great progress.

At the outset of this year, Ars Technica highlighted four achievements that could make 2017 an "annus mirabilis" for SpaceX. Our updated scorecard, shown below, demonstrates that SpaceX has made some impressive progress toward accomplishing these goals, and more, during what is shaping up to be a pivotal year for the company.

1. Fly a used booster (done)

SpaceX achieved its first goal in late March with the launch of the SES-10 communications satellite to geostationary transfer orbit. The 10-story-tall first stage launched for the second time in its existence. After sending the 5-ton payload on its way to 36,000km above the Earth, it returned safely to the planet.

For the company and the broader industry, it felt like a significant moment. Founder Elon Musk clearly felt he had finally pushed spaceflight across the rubicon of reusable rocketry, permanently changing the aerospace industry. "So it has been 15 years to get to this point, it took us a long time," he said at the time. "A lot of difficult steps along the way. This is going to be ultimately a huge revolution in spaceflight."

This wasn't a fluke. As early as next weekend, provided the tempestuous summertime Florida weather cooperates, SpaceX will attempt to launch the BulgariaSat 1 communications satellite on a previously flown booster. By the end of this year, as many as six Falcon 9 first stages could have made second flights into space.

2. Fly a used spacecraft (done)

Ultimately, SpaceX intends that its Dragon spacecraft—both the cargo one now carrying supplies to the International Space Station and a new, Dragon 2 crew variant—will be able to fly multiple times to lower overall costs. The first step toward that was flying a used Dragon into space, which the company achieved in early June.

The re-flown Dragon first launched to the International Space Station in September 2014 during SpaceX's fourth supply mission to the orbiting laboratory. The June 3 mission was the company's 11th overall supply mission, and the used Dragon had undergone significant refurbishment along with receiving a new heat shield.

During the post-flight news conference, NASA's program manager for the space station, Kirk Shireman, said the agency would consider flying future supply missions on used boosters. This raises the prospect of an entirely reusable launch and spacecraft system for delivering supplies to the laboratory—perhaps something to look for in 2018.

3. Fly the Falcon Heavy (in progress)

Spaceflight enthusiasts have been waiting for the Falcon Heavy for a long, long time, but now that the hardware is undergoing testing the rocket seems to be close to the launch pad. On Thursday, Musk tweeted that "All Falcon Heavy cores should be at the Cape [Canaveral, in Florida] in two to three months, so launch should happen a month after that." This would put the heavy launch in the September-October time frame from Florida.

This rocket would immediately become the most powerful operational booster on the planet, doubling the capacity of the Delta IV Heavy, manufactured by United Launch Alliance. The new rocket has a first stage composed of three Falcon 9 cores, which have a combined 5 million pounds of thrust at liftoff from 27 Merlin engines. For the inaugural launch, the central booster will be new, but the two side boosters will be "flight proven" Falcon 9 first stages.

Musk has explained the delays in Falcon Heavy development by saying the rocket had proven more difficult than anticipated. "At first it sounded easy, but actually, no, this is crazy hard," Musk said. The company has had to redesign the center core and additional hardware for the upcoming flight. Because the mission is risky, it will not carry a paying customer into space. Instead, Musk said, the rocket will launch "the silliest thing we can imagine."

4. Fly a Dragon 2 (perhaps not)

So SpaceX has completed two of the four objectives for 2017 already, and it seems to be on a good pace for the third one, a Falcon Heavy launch. Less certain, however, is its progress toward launching a version 2.0 of its Dragon spacecraft later this year. Officially, the company is still targeting November 2017 for this uncrewed "demonstration" flight of a spacecraft that will eventually carry astronauts to the space station.

Largely behind the scenes, as part of NASA's commercial crew program, both SpaceX and Boeing are working to bring their astronaut-carrying capsules to the launch pad. During an interview with Ars this week, NASA's manager of the commercial crew program, Kathy Lueders, said both companies were continuing to make progress but that both had a lot of work and testing yet to do to meet their milestones. That seems like code for: Don't trust either company's timeline.

One key factor to watch for is SpaceX's development of the final version of its Falcon 9 booster, dubbed the "Block V." This rocket will incorporate additional changes to increase reliability and reusability, which could allow the company to eventually refly a booster within 24 hours. All Dragon crew missions will fly on the Block V booster and so, too, will the demonstration mission. So once Block V begins flying, the company will probably be close to flying the Dragon 2. But it is not at all clear this will happen before the end of 2017.

5. A bonus achievement: High flight rates

SpaceX launched its first rocket in 2017 on January 14. Since then it has made six subsequent flights, or one about every three weeks. This is a pretty remarkable cadence for any government launch agency, let alone a private company flying a large, orbital class rocket. It would allow SpaceX to fly a record 17 missions this year, more than doubling the company's total for any previous year.

However, the company may soon kick the launch cadence up yet another notch. On the manifest it has the BulgariaSat 1 mission for June 17 from Kennedy Space Center, followed by an Iridium communications satellite from Vandenberg Air Force Base in California on June 25 and an Intelsat launch from Florida on July 1. If you're keeping track at home, that's potentially three launches in two weeks. A total of 20 launches this year is no longer out of the question. That's a lot.