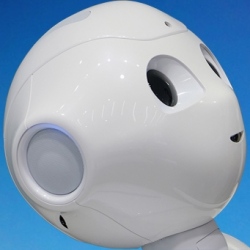 Microsoft's first mission statement envisioned a computer on every desk and in every home, but Bill Gates also had another goal: that computers would someday be able to see, hear, communicate and understand humans and their environment.

More than 25 years and two CEOs later, Microsoft is betting its future on it.

"We truly believe AI is this disruptive force, even though it's not new," said Harry Shum, the executive vice president in charge of Microsoft's AI and Research group, in an interview with GeekWire. "The recent progress is just enormous. We certainly have seen that through our own products and engagement with customers. We also feel we have a very strong point of view about how we take AI to the next step."

Microsoft CEO Satya Nadella formed the Microsoft AI and Research group one year ago this month as a fourth engineering division at the company, alongside the Office, Windows and Cloud & Enterprise divisions. The move reflects Nadella's belief in "democratizing AI," making it available to any person or company, and radically changing the way computers interact with and work on behalf of humans.

One way to measure Microsoft's AI bet: In its first year of operation, the AI and Research group has grown by 60 percent — from 5,000 people originally to nearly 8,000 people today — through hiring and acquisitions, and by bringing aboard additional teams from other parts of the company.

The creation of Microsoft AI and Research also underscores the intense competition in artificial intelligence. Microsoft is gearing up to compete against the likes of Google, Amazon, Salesforce, Apple, and countless AI startups and research groups, all of them looking to lead the tech industry in this new era of artificial intelligence.

Microsoft wants to show that it's leading and not falling behind in artificial intelligence, but competitors are also moving aggressively, said Rob Sanfilippo, research vice president at the independent Directions on Microsoft research firm.

"Microsoft has made advances, but so have IBM, Apple, Amazon, Google, Facebook, and others," he said. "Arguably, in the consumer space, Amazon leads in AI mindshare — more people are acquainted with Alexa than Cortana. Microsoft is looking to avoid missing giant opportunities as it did with mobile and social media, so it is giving its AI strategy a lot of attention and resources."

Microsoft has advantages and disadvantages in this quest. For example, the company's Windows Phone business hasn't come close to competing with iPhone and Android, which means its virtual assistant Cortana is relegated to third-party app status on the most popular smartphone platforms. However, Cortana is native to Windows 10, which is now on more than 500 million devices.

The company also has the advantage of large amounts of data, the raw material of machine learning, through its Bing search engine and, more recently, its $26 billion acquisition of LinkedIn, the largest deal in Microsoft's history. Products such as Office 365 also provide a unique distribution channel for Microsoft's AI features.

Then there's Microsoft Research, founded more than 25 years ago based on Gates' original vision. It's stocked with computer scientists and engineers who have spent years pursuing breakthroughs in areas such as deep neural networks, computer vision, machine translation and other fundamental underpinnings of artificial intelligence.

The idea behind AI and Research is to get those researchers working side-by-side with product teams to move artificial intelligence advances — some of them in the works for years or decades — out of the labs and into new and existing products.

People inside the group point to early progress from this approach. In one example, a researcher's new method for getting computers to recognize human emotion was released as an API for Microsoft cloud customers in a matter of weeks rather than languishing for months or longer after the publication of an academic paper.

"We've had this dream for a long time — that systems could be smarter and model the way you think," said Lili Cheng, a longtime Microsoft researcher and engineer who now leads the company's AI developer platform as a corporate vice president in the AI and Research group. The company's leaders believe that aligning the researchers and product groups will allow that to happen faster.

Microsoft changed the vision statement in its annual report this year to read, in part, "We believe a new technology paradigm is emerging that manifests itself through an intelligent cloud and an intelligent edge where computing is more distributed, AI drives insights and acts on the user's behalf, and user experiences span devices with a user's available data and information."

Artificial intelligence is one of the key topics of Nadella's upcoming book, Hit Refresh. We'll also be asking Nadella about AI as part of his upcoming appearance at the GeekWire Summit.

During the past year, Microsoft has introduced new artificial intelligence and machine learning features and services in products including Office, Bing, Azure and programmable AI chips for the company's data centers. The company has also released standalone AI programs, such as a Seeing AI app that helps visually impaired people better sense and understand the world around them.

After early triumphs and struggles with chatbots, Microsoft has been rolling them out around the world. Shum says the goal is to have a bot in every country with more than 100 million people.