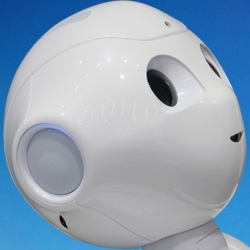 Japanese software developer Forex Robotics Corporation has announced it's developing a trading application for Pepper. According to the announcement, the Forex Robotics Corporation trading app will be making use of Pepper's AI capabilities to make trades on the OANDA FxTrade foreign currency trading platform.

The company states that Pepper will be able to execute both demo and real trades thorough the Web API (Application Programming Interface) provided by OANDA Japan. While Forex Robotics is making use of the OANDA foreign exchange trading infrastructure, the company clarified that OANDA is not actively participating in the development of the Pepper trading app.

Two years ago, SoftBank CEO and Co-founder Masayoshi Son unveiled Pepper in Japan. And many international corporations like Nestlé and Nissan have been using the friendly robot helper – which is designed to read people's emotions, in various business environments. More recently, the Pepper robots were put to use in Belgian hospitals, where they assist receptionists and guide patients & visitors.