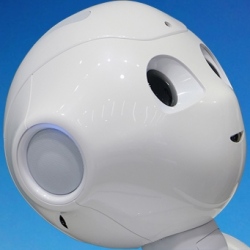 The Watson-powered Pepper robot in development will be equipped with a Watson software development kit (SDK) that allows developers and clients to tailor the interaction experience. IBM will give clients access to Watson APIs and various pre-packaged applications to address a variety of personal and professional needs.

"Today, the power of cognitive computing can be woven into any form factor. Our collaboration with Softbank on Pepper will allow a much broader audience to experience and tap into Watson," said Mike Rhodin, senior vice president, IBM Watson. "In terms of hands-on interaction, when cognitive capabilities are embedded in robotics, you see people engage and benefit from this technology in new and exciting ways."

IBM is currently piloting robotics technology with companies in the hospitality and consumer packaged goods industries. Through a Watson-powered Pepper solution, businesses will be able to extend the ways in which customers experience cognitive computing.

Today's self-service options in retail environments are typically tablets or kiosks, limiting the scope of how truly interactive and intuitive the customer experience can be. With a robotic assistant, users can have a natural conversation where their words, as well as gestures and expressions are understood.

Robotics today can be found in use across manufacturing and automotive industries, even as a vacuum in many homes, however they are limited in function, interaction, and are single-task-oriented, designed to complete specific jobs. There is ample opportunity to do much more, as IBM and SBRH advance Pepper's mobility and dexterity to extend the ways in which cognitive computing can be applied.

The two organizations are exploring a range of use cases from an in-class teaching assistant to a nursing aide, taking Pepper's unique physical characteristics, complemented by Watson's cognitive capabilities, to deliver an enhanced experience that helps people in new ways across industry domains.

As businesses look to increase customer engagement, many are leveraging cognitive systems to help make sense of data that can deepen this connection. Cognitive systems like Watson can help derive insights from new sources of information about people, for example what they share on social media in order to create better snapshots of their needs and what's important to them. These systems also learn how people prefer to interact with brands, enabling companies to use that understanding to more personally reach out to individuals.

The plans build on IBM and SoftBank Corp.'s landmark collaboration to advance Watson in Japan. Over the past year the teams have strengthened Watson's Japanese language proficiency and localized the technology platform to offer cognitive APIs across a local ecosystem of third-party partners and developers who are building new applications powered by Watson.

According to a recent BI Intelligence report, "robotics, long dominated by industrial and logistics uses, has begun to see a shift toward new consumer and office applications. There will be a $1.5 billion market for consumer and business robots by 2019."