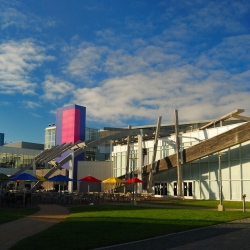 Lenovo and Google announced a partnership to create a smartphone that makes use of 3D augmented reality technology known as Project Tango. Johnny Lee, a member of the Tango team at Google, said that the sense of space and motion from Tango will now be built into a mobile phone.

"We can use the room around us to play games, and hide behind the furniture," Lee said. "Project Tango creates a magical window."

To show what he meant, Lee did a demo where he used Tango's sensors to measure exactly how tall a wall was inside a room at the Aquaknox restaurant in the Venetian Hotel in Las Vegas, where the press event was held.

The event was one of many at the 2016 International CES, the big tech trade show in Las Vegas this week. Jeff Meredith, vice president at Lenovo, said at the event, "We locked arms with Google to bring out a consumer device based on Tango."

Meredith said the goal was to create a mainstream device. Qualcomm is supplying a Snapdragon processor as the brain of the new smartphone. Both Google and Qualcomm collaborated with Lenovo over the past year to work on the device, Meredith said. The final design isn't set just yet, nor is the timing for the phone except the "summer of 2016." The price point is under $500.

"We are extremely proud of where we are at this stage of the effort," Meredith said. "We don't want this to be a niche technology."

Meredith said he hoped the technology would have a long life. He said the smartphone would have a screen that was under 6.5 inches diagonal. More than 5,000 developers are already engaged on making apps, Meredith said. Lowes is working on an augmented reality e-commerce app based on Project Tango.

In that app, the user can figure out if a refrigerator would fit in his or her real kitchen. Google is seeking more apps in a developer search initiative with a deadline of Feb. 15.