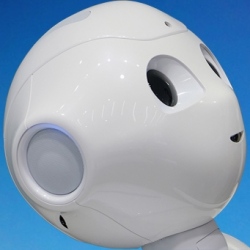 Chinese manufacturer Foxconn has so far installed 40,000 production robots across China as it looks to minimize the number of people it employs. With the exception of some components like servo motors and speed reducers, the robots are being built entirely in-house.

It's unclear how many of the so-called "Foxbots" are being used to manufacture Apple products. The machines are, however, said to be operating an industrial facility in Zhengzhou, a tablet plant in Chengdu, and computer/peripherals plants in Kunshan and Jiashan.

Dai commented that Foxconn is currently manufacturing 10,000 robots per year. Each one can potentially go far towards replacing human labor, in Kunshan alone, Foxconn is known to have cut 60,000 workers.

Thirty-five Taiwanese companies, including Apple's supplier Foxconn, spent a total of 4 billion yuan (HK$4.74 billion) on artificial intelligence last year, according to the Kunshan government's publicity department.

So it was robotics, artificial intelligence, process changes and demand changes that impacted the workforce.

As many as 600 major companies in Kunshan have similar plans, according to a government survey.

The job cuts do not augur well for Kunshan, which had a population of more than 2.5 million at the end of 2014, two-thirds of whom were migrant workers.

Factories and other buildings cover about 46 per cent of the land, a figure which is far higher than the cap set by the central ­government.

The local government, which was reshuffled after the blast, has promised to maintain zero growth in land development and decrease its population by 2020. Kunshan's latest growth figure is far from impressive.

The county grew by less than 3 per cent in 2014 and 2015 amid the central leadership's bid to restructure the world's second largest economy into a greener, more tech-intensive one.

Xu Xujiong, head of a local firm, Huaneng Welding, reflected on the hard times faced by the local units owing to the transition.

At its peak, Kunshan manufactured 120 million laptops a year, but output had fallen to only 51 million because of falling demand, said local officials.

Smartphone manufacturing, however, is trying to bridge the gap, about 20 million units were made last year.

Kunshan is home to about 4,800 Taiwanese companies, which contribute over 60 per cent of its GDP, and the county is encouraging more people from across the strait to start businesses there to boost its economy.