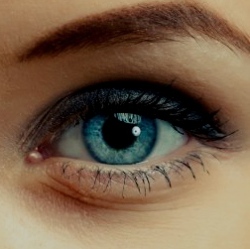 What if you could control a computer with just your eyes? Eyefluence, a Silicon Valley startup that is working on technology for hands-free navigation. The team has been working on prototypes, testing it out with augmented reality glasses equipped with cameras that can assess where you're looking.

The technology "moves as fast as you can think," said Jim Marggraff, founder and CEO. He said that unlike some of the other eye-tracking technology, Eyefluence works "without winking and without waiting."

It is their emphasis on biomechanics which they think will set them apart. Eyefluence claims they have the first user interface based on the "eye-brain connection."

Eyefluence is said to be working with big brands to integrate their technology into upcoming products, but they are reluctant to share where or when. "We are working with the major manufacturers of head-mounted display devices," is all Marggraff could say about the augmented reality and virtual reality integrations.

Marggraff predicts that there will be both consumer and commercial applications. He estimates that there are 40 million "deskless workers" and sees use cases for everything from construction to a hospital operating room.

But some of this may sound familiar to those who heard the early promises of Google Glass, which struggled to gain significant traction. Other smart glasses have debuted with little fanfare.

It is also a competitive landscape. While their technology isn't quite the same as Eyefluence's, Vuzix and Tobii are amongst the many companies working on hands-free navigation.

The team has raised over $21 million in fundraising from Intel Capital, Motorola Solutions and others.