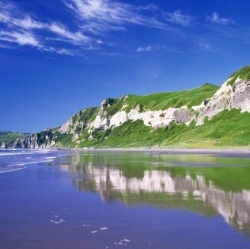 Six weeks worth of rain fell on greater Detroit on Monday, much of it during afternoon rush hour. Local drainage systems quickly topped out, and the deluge transformed highways into lakes studded with hundreds of stranded drivers and submerged cars.

Flooded roads and highways in greater Detroit began to reopen on Wednesday, two days after the storm, according to The Wall Street Journal, but the cleanup and repair is likely to take months. The flooding came about, most directly, due to very high humidity on Monday combined with a low pressure system from the southwest. The resulting storms moved so slowly (sometimes even reforming after initially raining themselves out) that the rain was concentrated across a small geographic area.

This is weather common to tropical regions of the world, not temperate Michigan. But it's in line with the National Climate Assessment, which found that over the past six decades incidents of extreme precipitation have increased across the continental U.S. due to human-propelled climate change. Rising temperatures increase the evaporation of water into vapor, and warmer air can take on greater amounts of water vapor than cooler. When all that vapor finally condenses into rain (or snow), there's more of it to dump onto the communities below.