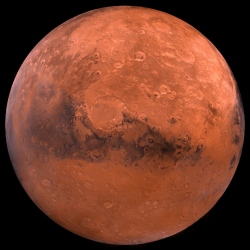 Elon Musk confirmed that SpaceX is developing a revised version of the overall 2016 Mars exploration architecture. The previous plan involved the development of giant reusable launch vehicles, called the Interplanetary Transport System. The new Mars plan figures out how to make the whole Mars system affordable.

He will decrease the size of the vehicles somewhat. "You make it capable of doing Earth orbit activity as well as Mars activity," he said. "Maybe we can pay for it by using it for Earth orbit activity. That's one of the key elements of the new architecture."

Falcon Heavy and commercial crewed Dragon

In the near term, though, Musk said SpaceX is primarily focused on completing development of the crewed version of the Dragon spacecraft. "Overall I think it's going really well," he said, with plans in place to start test flights of the vehicle around the middle of 2018.

Musk has indicated that he will not use retropropulsion to land the Dragon on Mars. He has a new approach which he did not reveal.

It is not clear how the new plans effect the Spacex plan to send two Dragon capsules to Mars in 2020.

The Falcon heavy is scheduled for a late 2017 launch.