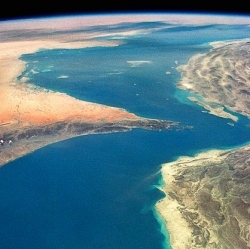 Marking another milestone, scientists reported on Wednesday that the Earth reached its highest temperature on record in 2016, trouncing a record set only a year earlier, which beat one set in 2014. It is the first time in the modern era of global warming data that temperatures have blown past the previous record three years in a row.

The findings come two days before the inauguration of an American president who has called global warming a Chinese plot and vowed to roll back his predecessor's efforts to cut emissions of heat-trapping gases.

In reality, the Earth is heating up, a point long beyond serious scientific dispute, but one becoming more evident as the records keep falling. Temperatures are heading toward levels that many experts believe will pose a profound threat to both the natural world and to human civilization.

In 2015 and 2016, the planetary warming was intensified by the weather pattern known as El Niño, in which the Pacific Ocean released a huge burst of energy and water vapor into the atmosphere. But the bigger factor in setting the records was the long-term trend of rising temperatures, which scientists say is being driven by increasing levels of carbon dioxide and other greenhouse gases.

"A single warm year is something of a curiosity," said Deke Arndt, chief of global climate monitoring for the National Oceanic and Atmospheric Administration. "It's really the trend, and the fact that we're punching at the ceiling every year now, that is the real indicator that we're undergoing big changes."

The heat extremes were especially pervasive in the Arctic, with temperatures in the fall running 20 to 30 degrees Fahrenheit above normal across large stretches of the Arctic Ocean. Sea ice in that region has been in precipitous decline for years, and Arctic communities are already wrestling with enormous problems, such as rapid coastal erosion, caused by the changing climate.

"What's going on in the Arctic is really very impressive; this year was ridiculously off the chart," said Gavin A. Schmidt, head of the Goddard Institute for Space Studies in Manhattan, a unit of the National Aeronautics and Space Administration that tracks global temperatures.