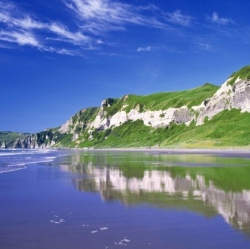 Elon Musk tweeted that there's "no need to rely on scientists for global warming, just use a thermometer." While climate change is more complicated that that, with implications that extend beyond just temperature, the point stands.

Summers across the globe are hotter than they used to be, and extreme weather has never been more common.

With the help of his colleagues at Columbia University, James Hansen, a former NASA climate scientist, compiled decades of temperature data and then put it into a variety of graphs and charts illustrating this shift in global temperature.

According to Hansen's data, 15 percent of summers between 2005 and 2015 fall into the category of "extremely hot," while the number of "hot" summers has doubled compared to the base period (1951 to 1980), jumping from around 33 percent to 66 percent.

Todd Sanford, director of research at Climate Central, told The New York Times that the findings "really highlight that changes in the average, while they may seem modest, have big implications for the extremes. And that's what's going to affect society and ecosystems." He also asserted that this upward trend provides "a glimpse to what's in our future."

An increase in high temperatures is one of many facets of climate change. Erratic weather phenomena, pollution, and ecosystem shifts due to other manifestations of the same cause have resulted in millions of deaths worldwide. In recent years, increased nitrogen levels caused the beaches of Florida to flood with foul-spelling green algae that killed animals and diseased people, and tropical storms, hurricanes, and typhoons have wrecked homes and damaged lives.