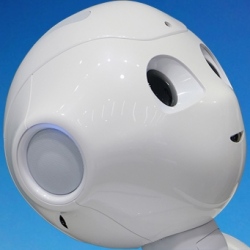 Japan's next boom may be at hand, driven by the very thing that is supposed to be bad for its economy. Japan's aging and shrinking population has been partly blamed for the on-again, off-again nature of growth and deflation the past three decades. Lately, it's been driving a different and just as powerful idea:

In the absence of large-scale immigration, the only viable solution for many domestic industries is to plow money into robots and information technology more generally.

Humans will still be needed, of course, and that's behind a separate by-product of Japan's demographic challenges that I wrote about during a visit there last month. With unemployment down to 2.8 percent, companies are increasingly realizing they need to pay up to attract and keep qualified personnel. The other option — increased immigration — is politically difficult.

Japanese tech innovation in yesteryear was about gadgets and games. Think Sony's iconic Walkman and Nintendo games. Now the demand in Japan comes from an older demographic. A nursing home may well be the place to look for the next wave.

As my colleagues Henry Hoenig and Keiko Ujikane wrote this week, an owner of nursing homes in the Tokyo area plans to spend 300 million yen ($2.7 million) on software to make life easier for employees and residents.

Hoenig, Toru Fujioka and I heard anecdotes like that numerous times during a December trip to Kadoma, a city near Osaka. The area was once an industrial powerhouse that rode Japan's post-1945 industrial surge with local employers like Panasonic Corp. Now, Mayor Kazutaka Miyamoto frets openly about whether there will simply be enough wage earners to pay the taxes to maintain hospitals, public transport and schools (for those few children who are born and actually stay).

Miyamoto does not share the worries that dominate conversations about robots and AI in the West. He almost laughed when pressed on the issue in a conversation in his office. What if robots eliminate jobs? He said that would be a good thing. He told us to look around: There aren't many people on the streets in the middle of a weekday.

He doesn't see any real appetite for immigration on a scale that would substitute for more robots and AI. Few businesses we spoke to that day did. One small manufacturer insisted that immigration would dilute Japan's homogeneous society. He would happily get a few robots if he could afford them. Wait until the price comes down.

Bank of America Merrill Lynch forecast IT investment in Japan to rise as much as 9 percent annually in coming years, with the difference in software investment per worker versus the U.S. falling to 5 to 1 by 2020 from about 10 to 1 now.

The budding surge isn't limited to manufacturers. Non-manufacturing companies planned 2.4 trillion yen in software investment in the fiscal year ending in March 2018, according to the Bank of Japan's Tankan survey, released in July. That would be the most since 2009. Retailers plan to spend 146.4 billion yen on software this fiscal year, the most on record for data going back to 1999.

Another reason Japanese people don't share American angst about robotics: Astro Boy. Cultural affection for the anime character has made it easier for people to feel more relaxed about robots and technology in their lives.

Just as well. That nurse assisting you in retirement may soon be a robot, along with the dog that keeps you company.