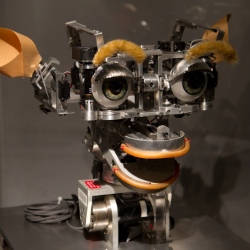 Youngsters aren't the only ones who get the latest high-tech gadgets. Sometime in the next decade or two, homebound retirees could be early adopters of an important new technology: the home-help robot. As robots become safer, smarter, and more capable, robotics companies are eyeing elder care as a huge potential market.

A rapidly expanding elderly population could also necessitate other new forms of home-assistance technology. "God help us if we don't figure it out," Colin Angle, CEO of Roomba maker iRobot, said during RoboBusiness, a robotics conference held in Boston this month. "Because over the next 20 years the ratio of people over the age of 65 to the number of people under 65 is going to change rather dramatically." Estimates from the United Nations suggest the population over 65 worldwide will increase 181 percent between 2010 and 2050, compared to a 33 percent increase in people aged 15 to 65. That shift will create a large incentive to automate at least some assistive work.

Some robots are already lending a mechanical hand. As part of an E.U.-funded research project, senior citizens in Italy, Spain, and Sweden have had their homes equipped with sensors to track their activity and health. Mobile telepresence robots, a wheeled videoconferencing system that can be piloted remotely, let relatives and doctors check in with them. Some nursing homes in Japan, Europe, and the U.S. give lonely residents a robotic seal called Paro as a companion. It responds to petting by cooing and purring and will cry if dropped or ignored.