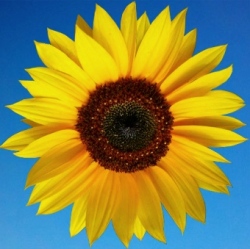 The race to build the world's largest solar power plant is heating up. California-based energy company SolarReserve announced plans for a massive concentrated solar power (CSP) plant in Nevada that claims to be the largest of its kind once built.

SolarReserve CEO Kevin Smith told the Las Vegas Review-Journal that the $5 billion endeavor would generate between 1,500 and 2,000 megawatts of power, enough to power about 1 million homes. That amount of power is as much as a nuclear power plant, or the 2,000-megawatt Hoover Dam and far bigger than any other existing solar facility on Earth, the Review-Journal pointed out.

"It's a big project," Smith told the publication. "It's an ambitious project."

SolarReserve's Sandstone project involves at least 100,000 mirrored heliostats that capture the sun's rays and concentrates it onto 10 towers equipped with a molten salt energy storage system. The molten salt, heated to more than 1,000 degrees, then boils water and creates a steam turbine that can drive generators 24/7.

Compared to photovoltaic arrays, the appeal of CSP systems is that solar power can be used after sunset.

"It's really the ability to provide renewable energy that's available on demand 24 hours a day," Smith told NPR.

SolarReserve already operates a CSP plant near Tonopah, a revolutionary 110-megawatt Crescent Dunes Solar Energy Plant that's now powering Nevada homes. The company says on its website that this "completely emission free" CSP plant runs without the requirement for natural gas or oil back up.

"Energy storage provides a firm, reliable electricity product on-demand, day and night," SolarReserve says, adding that the plant "helps meet growing demand for clean, renewable energy sources."

Smith told the Review-Journal that Sandstone construction probably won't begin for another two or three years. Once construction begins, Smith estimated the project should create about 3,000 jobs for about seven years.

He said the company will also have to build a new transmission infrastructure to carry the energy to market, and the generated power will likely will be "exported to the California market."

SolarReserve is narrowing down project sites for its 6,500-hectare project. Smith said two potential sites on federal land in Nye County have been shortlisted. However, as NPR reported, environmentalists such as Solar Done Right's Janine Blaeloch are concerned about the environmental impact of such a project.

"It transforms habitats and public lands into permanent industrial zones," she told the radio station.