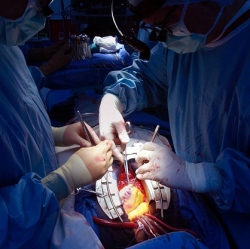 Up to two million people in England could be eligible for weight loss surgery, experts say. Bariatric surgery, such as fitting gastric bands, can cut the fatal risks from obesity-related problems such as heart disease and Type 2 diabetes. Although it has been growing in popularity, only 8,000 people a year are currently receiving the treatment.

Researchers from Imperial College London believe more than 5% of the adult population would qualify for it. However, they acknowledge that if it were carried out in such huge numbers it would have significant financial implications for the NHS.

Bariatric surgery, also known as weight loss surgery, is used as a last resort to treat people who are dangerously obese and carrying an excessive amount of body fat. This type of surgery is only available on the NHS to treat people with potentially life-threatening obesity when other treatments haven't worked.