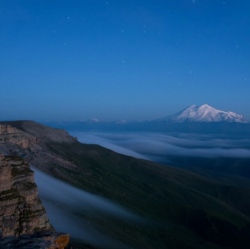 Global temperatures are set to rise more than one degree above pre-industrial levels according to the UK's Met Office. Figures from January to September this year are already 1.02C above the average between 1850 and 1900. If temperatures remain as predicted, 2015 will be the first year to breach this key threshold.

The world would then be half way towards 2C, the gateway to dangerous warming. The new data is certain to add urgency to political negotiations in Paris later this month aimed at securing a new global climate treaty.

For researchers, confusion about the true level of temperatures in the 1750s, when the industrial revolution began and fossil fuels became widely used, means that an accurate assessment of the amount the world has warmed since then is very difficult.

To get over this problem, the Met Office use an average of the temperatures recorded between 1850 and 1900, which they argue makes their analysis more accurate. Their latest temperature information comes from a dataset jointly run by the Met Office and the Climatic Research Unit at the University of East Anglia.

The HadCRUT database showed that in the first nine months of this year, the global mean temperature had just gone above 1C, hitting 1.02 with a error factor of plus or minus 0.11C. Scientists say that the 1 degree mark will be broken in 2015 because of a combination of carbon emissions and the impact of the El Nino weather phenomenon.

"We have seen a strong El Nino develop in the Tropical Pacific this year and that will have had some impact on this year's global temperature," said Stephen Belcher, director of the Met Office Hadley Centre.

"We've had similar natural events in the past, yet this is the first time we're set to reach the 1C marker and it's clear that it is human influence driving our modern climate into uncharted territory."