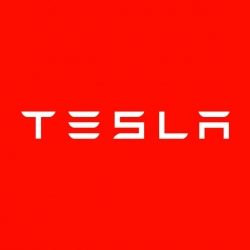 Elon Musk has stated on many occasions that introducing high-end vehicles was a means to eventually bring an affordable electric vehicle to market. Tesla finally unveiled the physical manifestation of that plan. The $35,000 (before federal tax credits) Model 3 sedan made its world debut at an event in LA.

On stage, Elon Musk announced that the car will have at least 215 miles of range, 0-60 in under six seconds, and every single one will have Supercharging as a standard feature. Even before the car was unveiled, Elon says pre-orders had already topped 115,000.

Pre-orders of the Model 3 started on launch day all over the globe. Potential customers lined up at Tesla dealerships and placed $1,000 deposits for a car (limit two per person) they might not take delivery of until 2018.

Musk noted earlier that this is phase one of the car's rollout and while tonight's event showed off the car, the automaker will be adding more features in the future as it gets closer to production.

When it does hit the street, it's closest competitor will be the Chevy Bolt. Both cars have a range of over 200 miles and a pre-tax credit price in the mid $30,000 range. What the Model 3 has over the Bolt is Tesla's Supercharger stations. In addition being able to charge at any level 2 charging station, it can reap the benefits of charging quickly at the Tesla stations.

Musk said that the car should feel more spacious to passengers than similar-sized petrol-based cars because of design decisions Tesla could make by not using a combustion engine.

In the US auto market, the average purchase price is about $33,000, which is close to the target for the Model 3. It becomes less of that pie-in-the-sky dream car and something that the average person can actually afford.

Update: Musk tweets there are now currently 232,000 preorders.