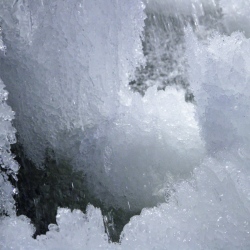 The area around the North Pole was about as warm as Chicago on Wednesday, and quite a few degrees warmer than much of the Midwest. "Consider the average winter temperature there is around 20 degrees below zero," wrote the Capital Weather Gang's Jason Samenow on Monday.

A temperature around the freezing mark signifies a departure from normal of over 50 degrees, and close to typical mid-summer temperatures in this region.

Meanwhile in habitable areas around the North Atlantic, winds are howling and waves are rocking the coastline. In Britain, a week of excessive rainfall has pushed rivers and streams well beyond their banks, stranding vehicles and buckling bridges.

In a blog post on Monday, the U.K. Met office said that December has been a record-breaking month for rainfall in parts of the United Kingdom. A Christmas weekend storm brought up to 8 inches of addition rainfall on saturated soil.

The Met Office listed just a small portion of the December records that were set this weekend, in some cases blowing away the previous December records by 10 inches.