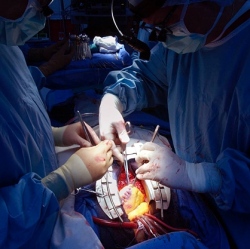 A device uses magnetism to rid the bloodstream of pathogens that are the source of infections. Bioengineers at Harvard's Wyss Institute have developed a blood filter that quickly grabs toxins, such as E.coli or Ebola, from the bloodstream using protein-coated nanobeads and magnets.

In early tests, the biomechanical treatment removed more than 90 percent of toxins from infected human blood within a few hours. When our immune system fights an infection, the dying virus releases toxins into the bloodstream that can cause sepsis, a life-threatening immune response. Doctors can't always pinpoint the specific pathogen that causes sepsis, so they use antibiotics to carpet-bomb the bloodstream, a strategy that's not always effective and can lead to drug-resistance.

The new device, dubbed an "artificial spleen," instead mechanically clears pathogens from the bloodstream, thereby reducing reliance on heavy doses of antibiotics. Its trick lies in magnetic nanobeads coated with a modified human protein. This protein binds to sugar molecules on the surfaces of more than 90 different bacteria, viruses and fungi, as well as to the toxins released by dead bacteria.