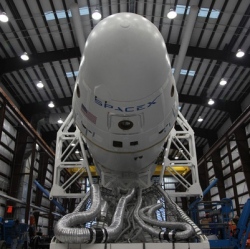 SpaceX has done it. Elon Musk's rocket startup just successfully launched and then landed a Falcon 9 rocket some 10 minutes later. This comes after several attempts that ended in fiery explosions. The rocket was carrying 11 satellites destined for low-Earth orbit.

It's important to note, this rocket isn't a one-off affair, or a small test rocket like the Blue Origin New Shepard or SpaceX Grasshopper.

The Falcon 9 is a serious rocket, capable of reaching 124 miles up thanks to the 1.5 million pounds of thrust produced by its 9 engines. It's designed to take serious payloads into serious orbit. The Blue Origin is capable of taking a few humans 62 miles into the sky, which is still great.

The primary mission which was satellite deployment was also a sucess.