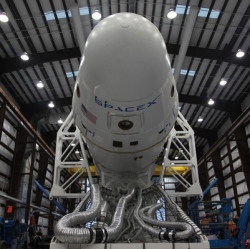 SpaceX has requested permission from the US Federal Communications Commission (FCC) to test a project to beam high-speed internet via satellite, reports The Washington Post. Musk first made his plans known in January at a SpaceX event in Seattle.

The idea involves a network of 4,000 small low-cost satellites that would be deployed from the company's Falcon 9 rocket and orbit Earth, while connecting to ground stations on the West Coast.

SpaceX's tests will determine if its antenna technology is capable of delivering high-speed internet access to devices on the ground. The company wants to begin testing next year and could have its service available to the public in five years. SpaceX received $1 billion in funding from Google and Fidelity in January, a part of which is earmarked for the satellite internet project.

It's worth noting that Musk isn't the only one interested in this technology; Virgin Group founder Richard Branson is on the board of directors at OneWeb, a company that's also developing a satellite constellation capable of delivering internet access from space.