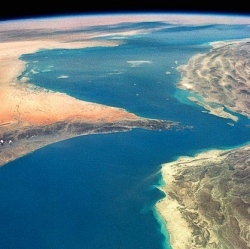 SpaceX launched a Falcon 9 rocket from California Friday evening, boosting a fourth batch of 10 Iridium NEXT satellites into orbit in the rocket-builder's 18th launch this year — a modern record. The rocket put on a spectacular sunset sky show across southern California.

This was prompting multiple tweets from surprised residents marveling at the view, including one re-tweeted by SpaceX founder Elon Musk in which a viewer worried she was witnessing a nuclear bomb. Musk titled the tweet: "Nuclear alien UFO from North Korea."

It was the fifth launch of a previously flown Falcon 9 first stage and while SpaceX normally attempts to recover stages for refurbishment and relaunch, the company said before launch no attempt would be made to land the first stage this time around

Instead, engineers carried out a series of tests before the stage crashed into the Pacific Ocean south of Vandenberg Air Force Base.