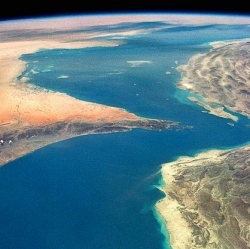 Loaded with some three tons of experiments and supplies, the SpaceX Dragon cargo craft arrived at the International Space Station Dec. 17, where Expedition 53 crew members Mark Vande Hei and Joe Acaba of NASA captured it by using the Canadian-built robotic arm.

Ground controllers at NASA's Johnson Space Center in Houston took over after Dragon was grappled, sending commands to maneuver the ship to the Earth-facing side of the Harmony module where it was attached for a month-long stay. Dragon was launched Dec. 15 on the SpaceX Falcon 9 rocket from Complex 40 at the Cape Canaveral Air Force Station in Florida to begin its journey to the international outpost.

This mission marks the first time SpaceX has flown both a flight-proven Falcon 9 and a flight-proven Dragon spacecraft in the same mission. Falcon 9's first stage previously supported the CRS-11 mission in June 2017 and the Dragon spacecraft previously supported the CRS-6 mission in April 2015.

Dec. 17, 2017: International Space Station Configuration. Four spaceships are parked at the space station including the SpaceX Dragon space freighter, the Progress 67 and 68 resupply ships and the Soyuz MS-06 crew ship.

The 13th contracted commercial resupply mission from SpaceX (CRS-13) delivered more than 4,800 pounds of supplies and payloads to the station. Among the research materials flying inside Dragon's pressurized area, one investigation will demonstrate the benefits of manufacturing fiber optic filaments in a microgravity environment.

Designed by the company Made in Space, and sponsored by the Center for the Advancement of Science in Space (CASIS), the investigation will attempt to pull fiber optic wire from ZBLAN, a heavy metal fluoride glass commonly used to make fiber optic glass. Results from this investigation could lead to the production of higher-quality fiber optic products for use in space and on Earth.

Dragon is scheduled to depart the station in January 2018 and return to Earth with more than 3,600 pounds of research, hardware and crew supplies.