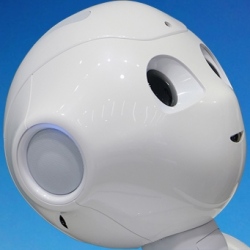 If all goes as planned, Pepper will be able to take and process entire customer orders. This marks the first commerce application for Pepper, according to MasterCard. MasterCard holders can pair their account with Pepper by using the MasterPass wallet app or scanning a QR code on Pepper's tablet.

Pepper will help Pizza Hut visitors make menu selections with personalized recommendations and special offers. Fear not! Pepper's not here to judge your calorie intake. Pepper just wants to make sure you don't forget about the joys of stuffed-crust pizza or miss out on any specials that are valid during your visit.

When it comes time to pay the bill, Pepper is equipped to handle that as well. Customers must authorize the payment to go through, but once they do, it's all completed in a matter of seconds, and everything happens in MasterPass, so it's also secure. The whole idea here is that this experience offers something more than tapping away on a tablet or kiosk attached to the table.

Pepper's getting a fresh set of skills that go beyond helping you obtain breadsticks. At Google I/O last week, it was announced that there'll be an Android SDK for the robot, and developer versions of Pepper will cost around $1,800 when they go on sale in July. IBM is also looking to bring SoftBank's humanoid bot some of Watson's smarts.