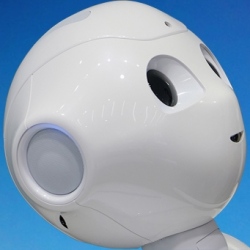 Last summer, SoftBank offered up 1,000 units of its humanoid robot 'Pepper' to the US market, they sold out in under a minute. Now, SoftBank is planning additional availability of the popular robot in addition to some surprising new capabilities that should get developers excited.

Today, at Google I/O, the Japanese tech company announced it was opening up a new developer portal, and adding SDK Android Studio, to enable custom development of applications to extend Pepper's capabilities ahead of the US launch.

After the announcement at CES that SoftBank was bringing Watson's artificial intelligence to the already smart humanoid assistant, and now Android further extending its capabilities, developers have a lot to be excited about moving forward, and after our hands-on at SXSW we were already pretty excited.

There's no firm date, but SoftBank says it plans to add SDK Android Studio ahead of its US launch, planned for later this year.