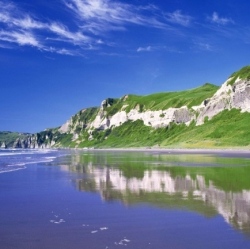 Engineers in the US have been working on coming up with a new energy-efficient way of taking the salt out of seawater, which could deliver huge advantages in terms of providing people with access to drinking water and help combat problems like drought.

The researchers have developed a material that allows high volumes of water to pass through extremely tiny holes called 'nanopores' while blocking salt and other contaminants. The material they're using, a nanometre-thick sheet of molybdenum disulphide (MoS2) riddled with these nanopore holes, is the most efficient of a number of thin-film membranes that the engineers modelled, filtering up to 70 percent more water than graphene.

"Even though we have a lot of water on this planet, there is very little that is drinkable," said Narayana Aluru, a professor of mechanical science and engineering at the University of Illinois and leader of the study. "If we could find a low-cost, efficient way to purify sea water, we would be making good strides in solving the water crisis."

Molybdenum disulphide coupled with nanopores could be that solution. While desalination isn't a new concept, the efficiency gains with this kind of new material, both in terms of the energy required to make the filtration work, and also the cost of keeping a desalination system running, could make a world of difference when it comes to processing large amounts of seawater.

The next steps for the researchers are partnering with manufacturers who can bring their modelled desalination technique to life. The first step will be testing, but they're confident their findings, which are published in Nature Communications, could be applied on an industrial scale for everybody's benefit.