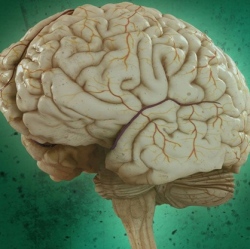 Without a steady supply of blood, neurons can't work. That's why one of the culprits behind Alzheimer's disease is believed to be the persistent blood clots that often form in the brains of Alzheimer's patients, contributing to the condition's hallmark memory loss, confusion and cognitive decline.

New experiments in Sidney Strickland's Laboratory of Neurobiology and Genetics at Rockefeller University have identified a compound that might halt the progression of Alzheimer's by interfering with the role amyloid-β, a small protein that forms plaques in Alzheimer's brains, plays in the formation of blood clots.

For more than a decade, potential Alzheimer's drugs have targeted amyloid-β, but, in clinical trials, they have either failed to slow the progression of the disease or caused serious side effects. However, by targeting the protein's ability to bind to a clotting agent in blood, the work in the Strickland lab offers a promising new strategy, according to the highlight, which will be published in print on July 1.

This latest study builds on previous work in Strickland's lab showing amyloid-β can interact with fibrinogen, the clotting agent, to form difficult-to-break-down clots that alter blood flow, cause inflammation and choke neurons.

"Our experiments in test tubes and in mouse models of Alzheimer's showed the compound, known as RU-505, helped restore normal clotting and cerebral blood flow. But the big pay-off came with behavioral tests in which the Alzheimer's mice treated with RU-505 exhibited better memories than their untreated counterparts," Strickland says. "These results suggest we have found a new strategy with which to treat Alzheimer's disease."