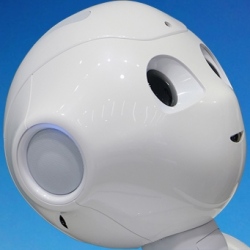 Pepper, a robot which can read facial expressions and 'feel' its own emotions, sold out in 60 seconds on the first day of sales in Japan. Softbank released a statement announcing the overwhelming demand for Pepper after 1,000 units sold out online. "Orders are no longer being taken."

Additional sales of Pepper are scheduled to be announced on SoftBank's website in July. A special drawing for 30 of the limited units was held Friday, one day before the robot's official release, at an event at a SoftBank shop in Tokyo. Pepper costs a base price of 198,000 yen, or $1,600 with an additional $200 monthly payment for data and insurance fees.

The humanoid robot is described as one that can feel emotion in a way humans do naturally through a system similar to a human's hormonal response to stimuli. The robot can generate its own emotions by gathering information from its cameras and various sensors. Softbank says that Pepper is a "he" and can read human facial expressions, words and surroundings to make decisions. He can sigh or even raise his voice; he can get scared from dimming lights and happy when praised.

Along with the product's launch, 200 applications are available to download into the robot including one that can record everyday life in the form of a robotic scrapbook. Last year, Nestle Japan used Pepper to sell Nescafe coffee machines in appliance stores all over the country. "Pepper will be able to explain Nescafe products and services and engage in conversation with consumers," Nestle Japan CEO Kohzoh Takaoka said in October before its roll-out.