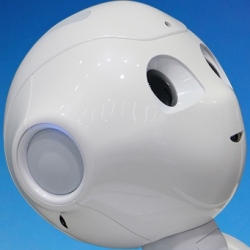 SoftBank, the tech group founded by Japanese billionaire Masayoshi Son, is forming a robotics venture with ecommerce group Alibaba and Apple supplier Foxconn, betting big on the future growth of intelligent personal robots. Jack Ma, the founder of Alibaba, predicts a future when robots will become smarter than humans.

"Robots are going to be as popular as cars," Mr Ma said on Thursday in a joint appearance with Mr Son on the outskirts of Tokyo. "They will be everywhere and I think we all have to get ready for that."

A year ago, Mr Son introduced the world to the androgynous 1.2-metre tall machine called Pepper, which moves on wheels and looks like it is wearing an iPad as a pendant. Mr Son highlighted technological advances in Pepper, claiming that the robot could not only read human emotions, but also express feelings of its own that change according to how people interact with it.

"In 30 years, I hope robots will become one of the core businesses in generating profits for the SoftBank group," Mr Son said.