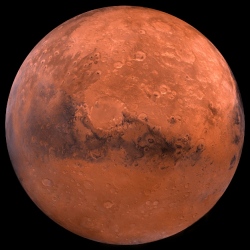 NASA's next Mars rover, a $2.1 billion nuclear-powered vehicle to search for evidence of life, will be launched in 2020 on an Atlas 5. Jim Green, planetary science division director, revealed the selection of the United Launch Alliance vehicle at the NASA Advisory Council.

"It will be the Atlas 5 carrying Mars 2020 to Mars," Green said.

ULA's Atlas 5 and Delta 4-Heavy and SpaceX's Falcon Heavy were studied as possible launch vehicles for the intermediate-to-heavy classed payload. It was not immediately known if SpaceX submitted a bid for this launch contract.

But, currently, Atlas 5 is the only launch vehicle that holds a NASA certification for launching the nuclear batteries made of plutonium that will power the 2,000-pound rover.

The six-wheeled robot will use by a Multi-Mission Radioisotope Thermoelectric Generator, enabling surface operations day and night by converting heat into electricity.

Atlas 5 has successfully performed the only launches of nuclear-equipped spacecraft for NASA in recent history: New Horizons to Pluto in 2006 and the Mars Science Laboratory's Curiosity rover in 2011.

The Mars 2020 mission will search for indications of past Martian life, building upon the ongoing field geology work by the Curiosity rover that shows the planet's early history had conditions suitable for life.

"The central scientific objective is seeking the signs of life," said Ken Farley, the Mars 2020 project scientist.

"Did life evolve there? Did it thrive there? Now, this life almost certainly disappeared because the climate changed about 3.5 billion years ago…So we are going to focus our exploration on the distant past."

The new mission now under development will send a Curiosity-like vehicle to an area of Mars likely to have once been habitable, exploring for a full Martian year, nearly 700 days, and collecting a cache of soil and rock samples for a future return to Earth.

"(We will be) preparing a very compelling set of scientific samples and leave them on the surface of Mars for a possible future mission to go and get them," Farley said.