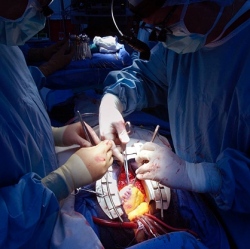 Cardiologists have begun implanting microchip sensors in patients with advanced heart failure to monitor symptoms and reduce their chances of returning to the hospital. The implantable sensor, called the CardioMEMS HF System, is a battery-less, dime-sized device placed directly inside the heart to monitor its pulmonary artery.

Implanted through a minimally invasive procedure, the sensor detects increases in pulmonary artery pressure, an early sign of worsening heart failure that can be detected before symptoms arise. Among the symptoms of advanced heart failure is shortness of breath, the kind of frightening experience that sends people racing to emergency rooms.

Once implanted, the device transmits daily pressure readings to a patient's medical team, who can then proactively provide real-time, personalized feedback before symptoms worsen. The device has been shown in clinical trials to reduce hospital readmissions for advanced heart failure patients by up to 37 percent.