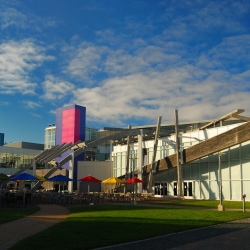 It hovers about 25 feet above a bullseye on the grass. A white trapezoidal box descends, does a little pirouette, and then lands. In a closely guarded experiment involving the future of transportation, Project Wing, a division of X, founded by Google, now of Alphabet Inc, is air-dropping food onto the campus of Virginia Polytechnic Institute.

The company has invested significantly in drones and predicts that eventually they will "serve many important purposes, possibly delivering medicine and batteries to cut-off areas after a natural disaster or helping firefighters improve communication and visibility near a wildfire," according to a fact sheet. But there is research to be done first, and Project Wing insists it be done in semi-secrecy. It is conducting the tests off the main Virginia Tech campus in Blacksburg, Virginia, at one of the six sites approved by the U.S. Federal Aviation Administration for drone testing.

Participation is by invitation, though drop-ins are served. Professional photography and videography aren't allowed. On a recent sunny Friday, a couple dozen students and staff gather in Adirondack chairs and at picnic tables beneath white tents. The location, enclosed by safety nets, overlooks the Virginia Smart Road, a 2.2 mile test track managed by the Virginia Tech Transportation Institute. Diners take a number from a red ticket dispenser and pay an extra $5.99 delivery fee to experience the dawn of unmanned Tex-Mex food delivery.