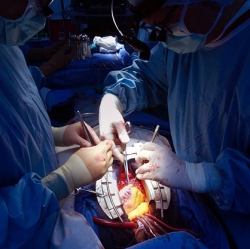 Google is partnering with pharmaceutical company Johnson & Johnson on a robotic surgery project. Johnson & Johnson announced today that Google and its surgery focused subsidiary Ethicon would share expertise and intellectual property with the goal of creating a "robotic-assisted surgical platform".

There aren't any specifics on what that might include, nor does it say what specifically each company might be bringing to the table. Robotic surgery can refer to machines that act autonomously, but it frequently means tools that surgeons can "pilot" from a computer screen.

It can also significantly add to the cost of surgery, and one of the most popular surgical robots has been accused of underreporting accidents to the FDA, which launched an investigation in 2013. But ideally, it can provide fine-grained controls in hard-to-reach areas, especially as technology advances.

Here, Johnson & Johnson describes it as "a type of minimally invasive surgery that uses technology to give surgeons greater control, access and accuracy during the surgical procedure while benefitting patients by minimizing trauma and scarring."