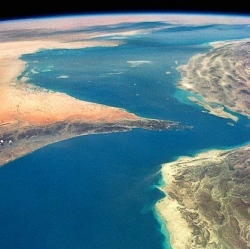 Space-based laser communications are moving out of the testing phase as SpaceDataHighway prepares for launch at the end of January. The 1.8 Gigabit per second system is a partnership between Airbus Defence and Space and ESA that will be a relay system between ground stations, satellites, and aircraft.

EDRS-A, the first relay satellite, will launch into geostationary orbit on January 28. Once in geosynchronous orbit over Europe, the satellite will establish laser communication links between with the four Sentinel-1 and Sentinel-2 satellites of the European Earth observation program Copernicus, UAVs, and ground stations in Europe, Africa, Latin America, the Middle East, and the US northeast coast.

EDRS-A is a Eurostar E3000 type satellite built by Airbus Defence and Space and operated by Eutelsat. At its heart is the Laser Communication Terminal (LCT) built by Airbus Defence and Space subsidiary Tesat Spacecom at a cost nearly €500 million (US$544 million). The LCT will allow the EDRS to transmit and receive up to 50 terabytes of encrypted data a day in near-real-time.

The system will be used to deliver images, video, and other data from satellites, UAVs, aircraft, and space stations, allowing for faster and more complete communications in the event of a crisis or natural disaster. In addition, the system will be used for Intelligence Surveillance and Reconnaissance (ISR), maritime surveillance, environment monitoring, agriculture, natural disaster, and weather forecasting.