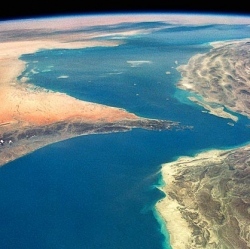 Not content to overturn almost every notion we have about transportation, Elon Musk unveiled a transformative vision with the goal of allowing humans to reach any place on Earth in under 60 minutes. Musk offered details of this future while speaking at the 68th International Astronautical Congress in Adelaide, Australia.

Musk has already launched Space X and electric car startup Tesla, seeded the Hyperloop transportation concept, and created the Boring Company to advance more efficient ways of drilling huge tunnels.

Now Musk is proposing a new earthbound travel system that would be developed by Space X, or Space Exploration Technologies. The company is developing a new and bigger rocket, dubbed BFR. In a demo video, people took a ferry from New York to the BFR, which then shot into a low orbit to reach Shanghai.

Musk said the company plans to use growing revenue from launching satellites to fund the development of BFR. He also said it would eventually replace Space X's current lineup of rockets so the company could concentrate all its resources on its development.

Musk believes that would also help fund Space X's plans to develop a service to take people to the Moon, as well as helping him establish a colony on Mars. This is all part of Musk's larger vision for how to turn humans into a multi-planet species.