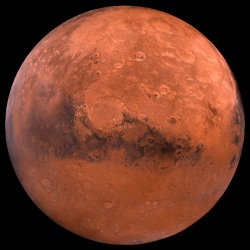 SpaceX's Falcon Heavy, its most powerful reusable rocket to date, might have its first launch before the end of the year after all, and it's going to include Elon Musk's very own Tesla. Following reports that time was up for the launch in 2017, Musk has seemingly confirmed that it will take place sometime in December.

And, in true Musk style, there is more.

Musk revealed that the payload inside the rocket will be his own Tesla Roadster (in midnight cherry color, no less) which launch while playing Space Oddity by David Bowie.

The planned destination is Mars and, all being well, Musk said his personal vehicle will be in the planet's orbit for "a billion years."

Musk's tweets appear to contradict reports from earlier this week that the Falcon Heavy launch wouldn't take place until early 2018.

SpaceX president Gwynne Shotwell told Aviation Week that the company is planning a static test fire of its Falcon Heavy rocket, with all 27 Merlin engines used simultaneously, before the end of 2017. Should that proceed without any major issues, the full launch would happen weeks later.

Timing is tight, but Elon Musk is Elon Musk. It's sure to be a fantastic spectacle.