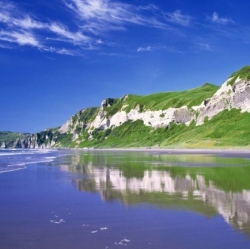 At UN climate talks in Morocco, countries say they are prepared to move ahead without the US. President-elect Trump has said that he will "cancel" the Paris Climate Agreement within 100 days of taking office. Negotiators in Marrakech say that such a move would seriously damage the credibility of the US.

But fossil fuel supporters say Mr Trump's plans prioritise the needs of American families. The election of a candidate viewed with horror by many environmental campaigners, has cast a significant shadow over COP22 – the annual meeting of climate delegates from almost 200 countries.

They have come to Marrakech to work on the nuts and bolts of the Paris Climate Agreement. However the election of Mr Trump now poses something of a threat to the deal signed less than a year ago in the French capital.

The treaty commits governments to take action to keep global temperatures from rising by 2C above pre-industrial levels and to do their best to keep that rise to less than 1.5 degrees.

But Mr Trump has promised that within 100 days of taking office he would "cancel" the agreement and "stop all payments of US tax dollars to UN global warming programmes".

Aware of Mr Trump's intentions, countries speedily ratified the Paris deal and it became a binding part of international law on 4 November.

If the new president wants to take the US out of the agreement, the process will require four years before he is free of it.