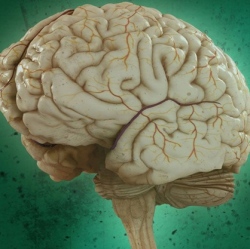 Electricity is the brain's language, and now we can speak to it without wires or implants. Nanoparticles can be used to stimulate regions of the brain electrically, opening up new ways to treat brain diseases. It may even one day allow the routine exchange of data between computers and the brain.

A material discovered in 2004 makes this possible. When "magnetoelectric" nanoparticles (MENs) are stimulated by an external magnetic field, they produce an electric field. If such nanoparticles are placed next to neurons, this electric field should allow them to communicate.

To find out, Sakhrat Khizroev of Florida International University in Miami and his team inserted 20 billion of these nanoparticles into the brains of mice. They then switched on a magnetic field, aiming it at the clump of nanoparticles to induce an electric field. An electroencephalogram showed that the region surrounded by nanoparticles lit up, stimulated by this electric field that had been generated.

"When MENs are exposed to even an extremely low frequency magnetic field, they generate their own local electric field at the same frequency," says Khizroev. "In turn, the electric field can directly couple to the electric circuitry of the neural network."

Khizroev's goal is to build a system that can both image brain activity and precisely target medical treatments at the same time. Since the nanoparticles respond differently to different frequencies of magnetic field, they can be tuned to release drugs.

"When [they are] injected in the brain, we can 'see' the brain and if necessary, we can release a specific drug inside a specific neuron on demand," says Khizroev. His team has already shown that the particles can be used to carry and release an anti-HIV drugs, as well as the cancer drug paclitaxel.