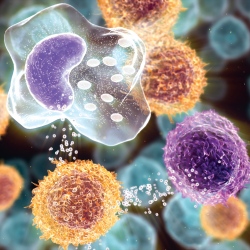 A new optical microscope developed by UCLA engineers could make it easier to distinguish and isolate rare cells from among a large population of assorted cells for early detection of disease and for monitoring disease treatments.

"To catch these elusive cells, the camera must be able to capture and digitally process millions of images continuously at a very high frame rate [36.7 MHz]," said Bahram Jalali, who holds the Northrop Grumman Endowed Opto-Electronic Chair in Electrical Engineering at the UCLA Henry Samueli School of Engineering and Applied Science. "Conventional CCD and CMOS cameras are not fast and sensitive enough. It takes time to read the data from the array of pixels, and they become less sensitive to light at high speed."

The current flow-cytometry method has high throughput, but since it relies on single-point light scattering, as opposed to taking a picture, it is not sensitive enough to detect very rare cell types, such as those present in early-stage or pre-metastasis cancer patients.

Typically, there are only a handful of circulating cancer tumor cells among a billion healthy cells, yet they are precursors to metastasis, the spread of cancer that causes about 90 percent of cancer mortalities. Such "rogue" cells are not limited to cancer — they also include stem cells used for regenerative medicine and other cell types.