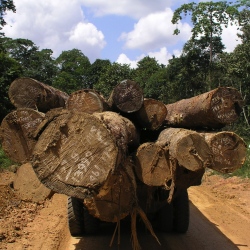 The Forest Products Laboratory of the US Forest Service has opened a US$1.7 million pilot plant for the production of cellulose nanocrystals (CNC) from wood by-products materials such as wood chips and sawdust. Prepared properly, CNCs are stronger and stiffer than Kevlar or carbon fibers, so that putting CNC into composite materials results in high strength, low weight products. In addition, the cost of CNCs is less than ten percent of the cost of Kevlar fiber or carbon fiber. These qualities have attracted the interest of the military for use in lightweight armor and ballistic glass (CNCs are transparent), as well as companies in the automotive, aerospace, electronics, consumer products, and medical industries.

Cellulose is the most abundant biological polymer on the planet and it is found in the cell walls of plant and bacterial cells. Composed of long chains of glucose molecules, cellulose fibers are arranged in an intricate web that provides both structure and support for plant cells. The primary commercial source for cellulose is wood, which is essentially a network of cellulose fibers held together by a matrix of lignin, another natural polymer which is easily degraded and removed.


Wood pulp is produced in a variety of processes, all of which break down and wash away the lignin, leaving behind a suspension of cellulose fibers in water. A typical cellulose wood fiber is only tens of microns wide and about a millimeter long.