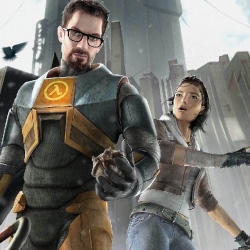 Nexon and NCsoft, two major Asian online game companies, are reportedly in talks with U.S. gamemaker Valve to buy the company for more than $893 million, according to a major Korean publication.

Joongang News reported that the companies recently met together on Sept. 26 in Hawaii to discuss a possible merger. Valve is a major publisher of games such as Portal 2 (pictured) and Left 4 Dead, and it also operates the Steam digital distribution service with tens of millions of customers.

Nexon spokesman Mike Crouch declined to comment. Valve's spokesman hasn't commented yet. If the talks are true, it shows the increasingly global nature of the video game business. China's Tencent recently made an investment in U.S.-based Epic Games, the maker of the Unreal game engine and The Gears of War game series. Valve is another extremely influential game company, originally founded in 1996 by former Microsoft veterans Gabe Newell and Mike Harrington. They started out with a mega-hit, Half-Life, and have grown the company to more than 300 employees.

Valve is so interesting that the New York Times recently profiled the company and its attempts to create a wearable gaming computer, a version of Steam for TVs, and its dispute with Microsoft over the launch of Windows 8, which will have an app store that may shut Valve's Steam out of the picture. Valve also has a nontraditional management structure, where no employees have formal titles and projects tend to self-assemble. Some of the ideas at Valve may seem crazy, but Steam was once such a silly idea. Now it has given Valve control of maybe 70 percent of the game-downloading business on PCs.

Nexon is a pioneer in free-to-play games such as MapleStory, in which users play for free and pay real money for virtual goods. Over the past decade, Nexon's model has caught hold in the industry. Meanwhile, it has propelled Nexon to great heights. The company moved its headquarters from Seoul to Tokyo last year and then raised $1 billion in an initial public offering. It spent $688 million to buy majority control of NCsoft, a massively multiplayer online game publisher of titles such as Lineage. The transactions show that Asian online game companies are becoming big players on the global stage, and they may be in a position to buy a lot of U.S. companies.