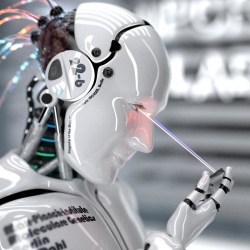 Many people believe that we've run out of ideas and that the future will be one of bleak shortages of food, energy, and water. Billionaire Peter Thiel, for example, argues that, despite spectacular advances in computer-related fields, technological progress has actually stalled because the internal combustion engine still rules our highways, the cancer death rate has barely changed since 1971, and the top speed at which people can travel has ceased to improve.

Thiel is right about engines, speed, and cancer death rates. But he and the pessimists are completely wrong about what lies ahead. I don't believe that the future holds shortages and stagnation; it is more likely to be one in which we debate how we can distribute the abundance and prosperity that we've created.

Why am I so optimistic? Because of the wide assortment of technologies that are advancing at exponential rates and converging. They are enabling small teams to do what was once only possible for governments and large corporations. These exponential technologies will help us solve many of humanity's grand challenges, including energy, education, water, food, and health.

Let me give you a taste of what lies ahead.

Most people in the world have been affected by the advances in computing and mobile technologies. In a short 15 years, the Internet has changed the way we work, shop, communicate, and think. Knowledge that used to be available only to the elite classes through books such as the Encyclopedia Britannica is today abundant and free. All of this happened because computing power is growing exponentially. The technology industry knows this growth as Moore's Law.

The advances are happening not only in computing but also in fields such as genetics, AI, robotics, and medicine. For example, in 2000, scientists at a private company called Celera announced that it had raced ahead of the U.S. government–led international effort decoding the DNA of a human being. Using the latest sequencing technology as well as the data available from the Human Genome Project, Celera scientists had created a working draft of the genome. It took decades and cost billions to reach this milestone.

The price of genome sequencing is dropping at double the rate of Moore's Law. Today, it is possible to decode your DNA for a few thousand dollars. With the price falling at this rate, a full genome sequence will cost less than $100 within five years. Genome data will readily be available for millions, perhaps billions, of people. We will be able to discover the correlations between disease and DNA and to prescribe personalized medications tailored to an individual's DNA. This will create a revolution in medicine.