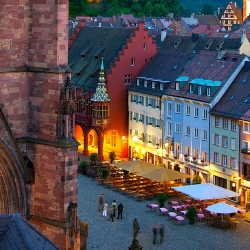 Indeed, two things became apparent during my week in London. The startup vernacular (meaning overused buzzwords like "big data" and "minimum viable product") is hitting the mainstream business culture, and tech companies are emerging at an unprecedented rate.
Recent estimates suggest that the Internet economy accounts for about 8 percent of the country's GDP, a higher percentage than the United States. Not too long ago, the British economy was described in the press as "sluggish," even "moribund," but the tech sector is cause for optimism, and is generating a steady stream of jobs.
How did England's capital city establish a thriving tech hub in a matter of years?
Eileen Burbidge, a local tech investor, said she's been struck by the rapid emergence of startups, investors, mentorship, and support networks in the city.
Jut two or three years ago, she explained, London's startups were held back by a lack of seed funding, and the ecosystem was in early-stages of development. A decade prior, when she moved from Silicon Valley, the tech scene was embryonic. In 2013, Burbidge can barely keep up with the sheer number of investment opportunities, and her firm Passion Capital funded 34 startups across a diverse range of sectors.
To meet the rising demand for funding, Burbidge has also established a $60 million fund and office space known as White Bear Yard, which will invest in 50 companies over the next five years in Europe.
According to Burbidge (who insists on publishing extensive data about the firm's portfolio companies) Passion Capital's three partners invested in 21 early-stage startups in 2011 and 2012, and only two have "wound down." The rest have raised follow-on rounds, got acquired, or have continued to grow without needing further financing.
"We have got to the point where we have a healthy, self-sustaining ecosystem" she said.
Eze Vidra, Google London's campus chief, agrees that the tech sector has come into its own. He points to a combination of factors, including government support and the growth of equity crowdfunding.