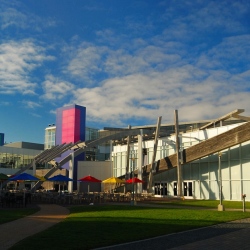 Tesla's and Google's founders share a fondness for special interest projects. They shoot for the future, whether that takes the form of SpaceX with its space launch vehicles or Google Glass with its vision of augmented reality. In 2010 those paths crossed when Google announced it was beginning work on driverless cars.

While they have been pursuing different goals, Google's driverless cars are aimed at saving lives and reducing traffic congestion while Tesla's electric cars tackle the issue of polluting gasoline engines, there's a good chance the two will converge in the near future.

When that happens, expect Google to drive Tesla's cars as well as Tesla stock. Google has been a top performer in the technology market. In the past decade GOOG stock has increased in value by more than 1,000%. According to a Millward Brown study, Google has overtaken Apple as the world's most valuable brand, with a 2014 brand valuation of $159 billion.

If the company wants to continue this growth trajectory in the future, it needs to expand beyond its current reliance on ad revenue. That's where projects like the driverless car come into play. Tesla has also been on a roll. Since its 2010 IPO, Tesla stock is also up 1,000% with the bulk of that increase taking place in the past year.

However, there are some clouds on the horizon for TSLA stock. While Google essentially created the market that it now dominates, Tesla is trying to disrupt an automotive market that is crowded and controlled by huge companies like Ford (F) and General Motors (GM) that have a century-long head start. Meanwhile Toyota (TM) virtually owns the electric hybrid car market.

That makes it considerably more difficult for TSLA stock to keep growing at its current pace. The company's electric cars are built and priced as luxury vehicles, and while sales have been good, Tesla announced it delivered 22,477 vehicles in 2013, that is a minuscule fraction of the nearly 83 million cars sold globally last year.

With ambitious projects like the multi-billion dollar "Gigafactory" and plans to release a crossover Model-X in 2015 and a lower cost Model E a year or two later, Tesla is building for expansion.